Clean zones in production facilities
Today, the pharmaceutical market is one of the largest and fastest-growing industries in the world. The demand for improved quality and longevity of life, followed by rising healthcare spending, is driving pharmaceutical companies to become more competitive. This state of affairs is prompting innovation in production processes, resulting in improved quality of the products themselves and increased volumes. This requires maximum use of space, investment in infrastructure and continuous development of skills.
The basic investment requirement of recent years has been to carry out production in increasingly higher cleanliness classes, i.e. to build so-called clean rooms or to supplement existing clean areas with elements that increase cleanliness classes and production reliability.
Working with sensitive materials requires a stable environment in which at least the following are controlled: numbers of air changes per hour, under/overpressure in the rooms (pressure cascades), temperature, humidity, quantities of particles with sizes measured in microns, microbiological protection, other parameters such as anti-static, anti-explosive zones, etc.
The creation and operation of areas with such environmental parameters requires the construction of a clean area. This can be achieved by creating a typical clean room, i.e. a set of rooms with a pressure cascade, or by installing a variety of (often mobile) solutions, such as clean boxes, passenger and goods airlocks, conveyor belts for clean transport, etc. For example, by installing a workstation with a laminar flow, it is possible to increase the level of cleanliness in the tabletop area and ensure a cleanliness class of up to ISO 3 in a simple and effective manner. A similar solution is found in fume cupboards. If you want to control, in addition to air cleanliness, e.g. humidity levels and temperature, a glovebox can be used. Both gloveboxes and laminar-flow workstations can be used as stand-alone units or as line-connected units. However, the laminar-flow station and gloveboxes are primarily used to isolate the subject from surrounding external factors (e.g. work on cytostatics).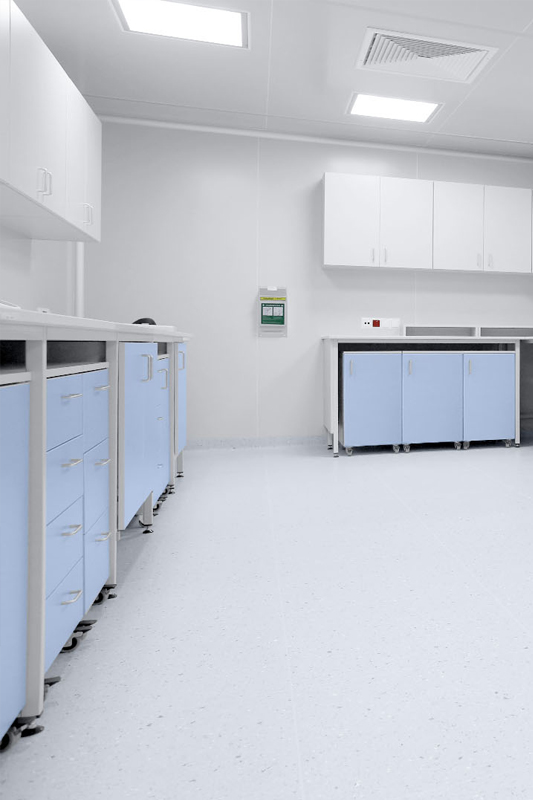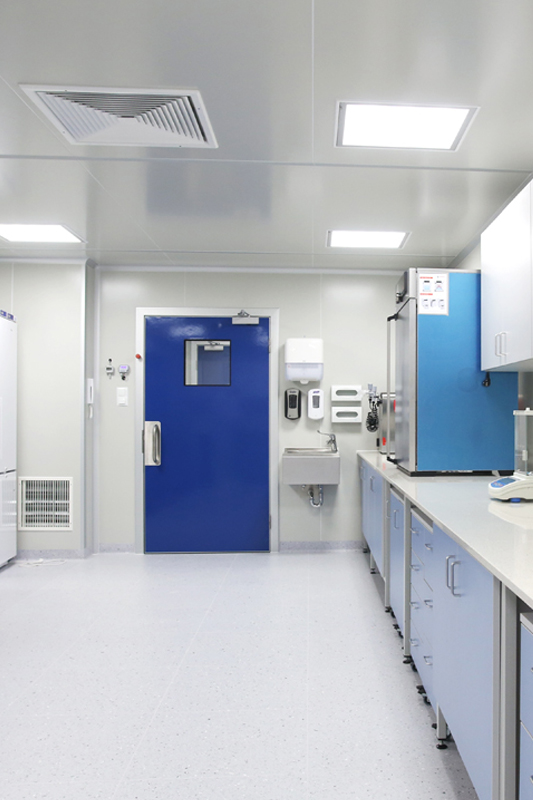 In clean room environments, particles that are released into the environment and become airborne will be a source of contamination, so all sources of contamination (dust, dust, bacteria, chemical vapours, etc.), including those from equipment installed in the zone and process dirt, must be eliminated or reduced. All items must be specially designed (elimination of flat surfaces, sealing, anti-static, germicidal materials) and approved for use in a specific room. They must also be cleaned and used in an appropriate manner. This is important because each item can generate contamination and change temperature and humidity values. Their indoor location is important. Thus, not only the basic structural elements of the zone such as walls, ceilings, floors and airlocks, but also furniture and even office equipment must be approved for use in a clean room and used accordingly.
Continuous maintenance of cleanliness
Proper functioning of the area requires constant care for its cleanliness. Depending on the class of the area, it should be equipped with a set of resources to perform this task, such as: decontamination mats, cleaning rolls, cloths, mops and chemical preparations.
The correct use of the above resources requires compliance with a number of cleaning and sanitation procedures, in which compliance with standards must be maintained. Often, outsourcing specialised cleaning will be the most advantageous solution, also for economic reasons.
Research clearly indicates that the most important hazard group is the presence of people in the area. The prerequisite for this is a suitably trained workforce (including maintenance services).
The training programme usually consists of two groups of issues – general procedures, covering the rules of human presence in the clean area, and specific procedures created for the unit based on its infrastructure and the research or production processes carried out. Clothing and footwear are also important pieces of equipment, as they are factors that directly affect a number of elements crucial to the quality of work and value of research.
Depending on the type of facility and the nature of the tasks performed in it, the choice of garments must take into account at least some basic factors: ensuring occupational safety and protecting workers, e.g. from biological and chemical hazards, meeting standards as required by law, taking into account the specific conditions of the testing or production process, the quality and reliability of measurements or production, methods of garment maintenance and washing (particularly relevant for clean room garments, where the garment is one of the critical conditions for process efficiency and safety requirements), taking into account the dynamics of the wearer's movements and ensuring comfortable working for long hours.
It is important to remember that in order to reduce the risk of contamination between clean areas, it is necessary to have and follow a procedure for the proper donning of garments, as well as changing and washing them frequently enough.
It must be washed in a specially designed laundry, otherwise it will very quickly lose its bactericidal and antistatic properties, and certainly cannot be used in clean areas. The specialised washing process, which takes place in rooms with controlled environmental parameters, guarantees full monitoring of contaminants such as dust and dirt, essential for the industry, pharmaceutical, biotechnology, cosmetics.
It should be remembered that starting the design of a clean room requires, first of all, the development of a plan (more precisely, several designs: architectural, ventilation, process, etc.) and close cooperation between the contractor and the principal. On the contractor's side, the clean room design is usually created by a team of engineers, and each stage of design and execution is recorded and approved according to the procedures required by numerous norms and standards. The maintenance and upkeep of a poorly designed clean room will quickly consume more money than building a clean area with thoughtful solutions.
Configuring, assembling, commissioning, training and then taking care of the whole thing is what the user can expect, and it is undoubtedly a convenient and efficient solution that is worth entrusting to an entity capable of carrying out the project in its entirety.